The main goal of an entrepreneur is to retain existing customers and gain new ones. Because loyal customers are the source of profit for any business. That is why you need to apply a referral program that will help you gain more customers.
What is a referral program and how to use it? This article will spell everything out, and you will find out how to inspire your existing customers to recommend your services to their friends.
More about referral program meaning
A referral marketing program means when you create attractive conditions for your customers recommend your services to other people who are not your customers yet. Today such recommendations can be shared in a few following ways:
Users share posts and links on social media;
Individual promo codes with discounts;
Sending emails;
Simple invitations sent to people from contact where all the pros of your services are described.
Of course, your customers will do it only if they have the motivation to perform this. Let's take a look at a few examples of how famous brands motivate their customers to launch a referral program:
Dropbox offers additional disk space about 500 MB or 1 Gb;
Evernote provides users with discounts and bonuses;
PayPal even goes further – it gives real money as bonuses;
Uber gives free miles for a few rides, for example.
Reasons a referral program is necessary for your business
It is not a secret for somebody that referral have much more trust to recommendations they were given by their friends or well-known people. Even they see interesting online advertising, they don't consider it as something really attractive.
As a rule, people listen to recommendations from friends or list Google reviews, reviews on other services like Yelp, TripAdvisor, etc. And existing customers recommend your business more willingly if they are really satisfied with it and they see all advantages over using your services rather than the services of competitors. Moreover, most business owners even don't need to ask their customers to leave good reviews – it is more valuable if they recommend it to their friends directly.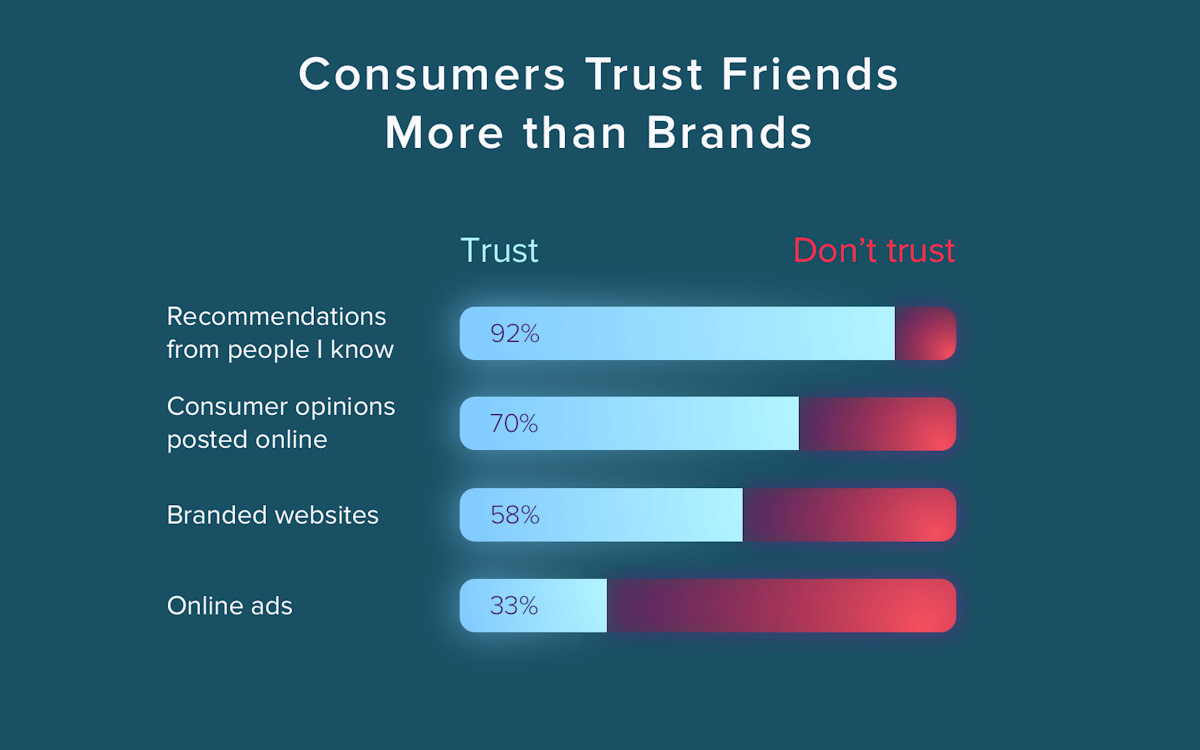 Source: Nielsen Global Trust in Advertising Survey, Q3 2011
That is why a referral marketing program costs much less than the majority of other ways of promotion, but the efficiency level can be higher. Because recommendations from friends are always more trustworthy.
Steps to build for a referral program strategy
These steps will help you think through a referral program and create it really wisely to gain new users and multiply revenue.
Customer experience comes first
It means that everything a customer deals with using your product should be perfect. Everything should function properly, without lags, the level of experience must be high. Don't forget that you are not the one who provides users with such services, the market of competitors is large, and you must offer competitive services. That is why everything you do should be done as cool as possible.
Monitor all statistics
If you provide users with services through a website, you should monitor all statistics like the number of visitors, how many leads you got these months, etc. This statistics will help you check out how many referrals you already have.
To track statistics, you need to use tools like Google Analytics or something similar. You can see where your new customers came from, and it will be a good auxiliary tool to build a correct referral program.
In addition, don't forget to check other metrics which will help you to assess the whole statistics situation all over your website.
Add referral widgets
We are sure that everybody saw widgets on many websites that pop up on the screen when you enter a website or specific page. This widget offers customers to share interesting information about discounts/bonuses/rewards etc. just with one click.
Thus, customers don't spend much time to share information about your service. Try to add a referral widget on a few pages (and the main page is the first one, of course) in order to provide customers with an opportunity to spread the information about your services.
Rewards for referrals
Reward your customers to motivate them to share the information about your product or services. It is one of the most efficient ways. As we noted above, famous brands use rewards related to their scope of activity. So you can do the same – give customers something they will use efficiently on your website (coupons, discounts, free subscription, etc.).
A/B testing is a must
A/B testing is a testing that helps you choose an optimal solution among other existing ones. A/B testing is also called split testing.
Such testing includes a comparison of different elements and choosing the best one. For example, if you create a referral widget with a specific call-to-action, you can test a few variants of CTAs, and see what variant is preferable.
One of the major advantages of A/B testing lies in building a strategy of website promotion using objective evidence, not an intuitive one. You can test elements like the title of pages, UI/UX design, content, chats, images, and so on.
That is why you should pay rapt attention to A/ B testing, it will help you find the right solution for an efficient referral program.
Options to launch your referral program
If you need to promote your eCommerce website and build a referral program for it, there are two options and you can choose what is more appropriate for you. But if you still don't have a website, and you plan to create it, you should find out the cost to build a website – it will help you plan a budget both for the development process and for further marketing campaigns.
Off-the-shelf tools
This option is good if your budget is limited. There are ready-made tools you can buy and use it for building your own referral programs. There is a large number of them, you can simply find it via web search. As a rule, such services function like SaaS (software as a service) and they can be integrated with your website since they are web-based.
Off-the-shelf tools for launching referral programs provide users with a functionality set that is similar, so it is unlikely that you will find different features in various ready-made tools.
Custom tools for referral campaigns
Ready-made tools are good than nothing, but they are far from being perfect since their functionality is very limited. Therefore, if you want to create your own strategy and use some additional features that ready-made tools lack, you need to invest money in the development of a custom solution. It will be built from scratch by a reliable software development company.
To reduce development cost, you may outsource the development to countries with lower rates. It will be a win-win option.
Summary
Let's sum everything up. To start your referral program, you should keep up with a few mandatory steps and take examples from famous brands. As you can see, a referral program is important and it can become a gold mine for your business. The only thing you need is to choose the right strategy and be clever!
---
About the Author
Vitaly Kuprenko is is a technical writer at Cleveroad. It's a mobile and web application development company in Ukraine. He enjoys telling about tech innovations and digital ways to boost businesses.