Influencers have taken the marketing world by storm. Forget about print ads and television commercials— today, influencers have the power to influence what you buy.
But what is an influencer marketing?
Influencer marketing is defined as a type of social media marketing that uses endorsements and product mentions from influencers. Influencers are people who have a significant social following and are viewed as trustworthy experts in their niche.
Influencer marketing is effective and is preferred by many brands because it simply works. Influencers have built their reputation with their following and recommendations from them are trustworthy for your brand's potential customers.
An influencer isn't just a random person with thousands of followers. Influencers are people who are considered "experts" in their niche. According to Sprout Social, these are the types of people that are considered to be an influencer:
Social media experts
Popular YouTube users
Bloggers
Famous people
The most important part of influencer marketing is the authentic connection between the followers and the influencer since everyone's following grows over time.
As influencers begin to increase throughout the years, influencers have been divided into different categories— macro and micro. Micro-influencers are those with less than 10,000 followers. Despite their small following, many brands have opted for micro-influencers to promote their brand.
This is because micro-influencers seem like a trusted friend. Have you ever been curious about a product and asked a friend about it? Well, that's how micro-influencers work. They give you honest recommendations and reviews on products. Since their following isn't too big, their engagement with their followers is better, hence more trustworthy.
With big influencers such as Kylie Jenner and Tana Mongeau, it can be hard to trust anyone with a big following. So, people are constantly searching for authenticity.
All in all, influencer marketing is an effective way to market your brand and reach your target audience. To justify our point, we have come up with 8 reasons why influencer marketing is going to take over 2020, below:
1. Consumers trust influencers
Influencers have power over their followers because of their followers' trust. This trust is what helps develop loyal fan communities.
When an influencer shares their feedback about a brand's product or service, their followers see this as a real, honest review. These types of content help strengthen brand reputation and increase brand credibility.
When an influencer recommends a product, it's not just because they were paid to promote it. The influencer has tried the product and finds it worthy enough to share with their followers.
Collaborating with influencers can help your brand gain the trust of their audience and in the long run, it can create loyal brand advocates which in the long term helps increase brand awareness and earn more revenue for your brand.
2. The significant shift from celebrities to opinion leaders
Celebrities are usually paid to endorse products. Due to this, their raving review of a service or product isn't perceived genuine and can often deem as selling out. Although celebrity endorsements worked back in the day, customers today are growing smarter and they crave authenticity.
Your audience won't trust a famed celebrity. They would rather listen to someone who knows your product and is willing to be honest with their followers. These days, we can definitely see the significant shift from celebrities to opinion leaders.
Although celebrities have the power to reach a larger audience than influencers, it's better to reach a smaller but more targeted group that is interested in your brand.
3. People don't want to see your ads
Online ads are both a blessing and a curse. It allows brands to reach large audiences at the same time on different platforms. However, online ads can be annoying for users. Because of this, people nowadays block advertisements with ad blockers. The number of people using ad blockers has risen by 30% from 2016.
With influencers, brands don't need to worry about being blocked by people. Influencers have already garnered their audience so brands don't need to make a lot of effort of finding one.
4. Influencer marketing delivers a strong ROI
According to Mediakix, influencer marketing has a better ROI compared to other channels. A total of 89% say that influencer marketing offers comparable or better ROI.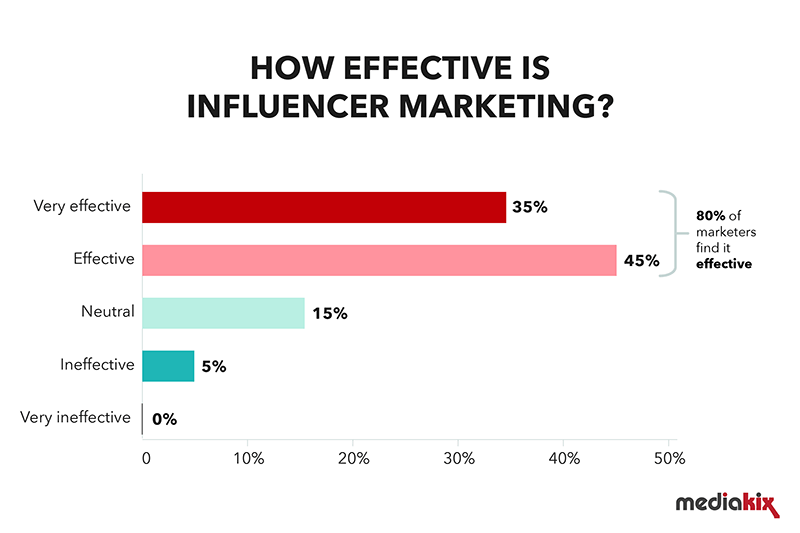 On average, brands generate around $6.50 in revenue for every $1 invested in influencer marketing. Most businesses get concrete results from influencer marketing and this is because they are able to reach their audience effectively.
Influencers know how to communicate and create content catered to their audience and can influence their followers to purchase products or services they're passionate about.
5. Your competition is already using influencers.
As seen in statistics, businesses everywhere are turning to influencers to help them improve their brand and reach out to audiences. Businesses are also reaping the benefits. Since everyone is already using influencers, it's about time you should join the bandwagon as well.
6. Influencers bring traffic to your business
Driving traffic to your site and social media platforms can become a growing pain. With influencers, you won't have to struggle for long when looking for traffic since bringing in traffic is one of their key benefits. When an influencer tells their followers to check out your site, it's the first step to a successful marketing campaign. When an influencer connects with your brand, so does their followers.
7. Influencers are content creators
One of the influencer's key skills and expertise is regularly publishing engaging content that their audience can relate to and interact with. If you're looking to elevate your brand and want to start with high-quality content, an influencer can help you out with the heavy lifting of creating content.
When trusted influencers mention your brand in their social media platforms and blog, you get high-quality backlinks to your site. This is great news for you since Google loves high-quality links from industry authorities.
Other than creating awesome content, influencers can boost your business' SEO— it's obviously a win-win situation.
8. Influencers can become long-term brand advocates.
Collaborating with influencers is a good way to raise brand awareness and generate interest. However, it's when influencers become loyal brand advocates of your business you start to see the value of influencer marketing.
This is possible because influencers don't just thrive on the engagement of their followers— they are also engaged with their followers. This means that they interact with their followers, reply to their comments, and respond to their questions.
High levels of engagement are the key to a successful marketing campaign because it's important to hit reach and impression goals than merely posting loads of content.
---
About the Author
Brian Fajar is a content writer of Milkwhale. He likes to write about infographic and video marketing, as well as other topics in the field of business and content marketing. When not working, he likes to spend time with his family and friends.